Algarve's spots, live weather forecast here - complete gallery here

The ALGARVE is alluring!!! The coast receives much exposure for its breathtaking cliffs, golden beaches, scalloped bays and sandy islands. If WE had to choose one letter for the Algarve it would be the letter 'S' for sun, surf and sand. But there's much more to this Atlantic gem: outdoor activities, beach bars and discos, castles, diving, entertainment, and of course mountain biking. Maybe the letters should be F & S for FUN in the SUN!!
ALGARVE also boasts scenic castle towns and historic villages, cork tree and flower-covered hillsides, national protected nature reserves, pristine beaches and wild coastlines and is home to Europe's most southwestern point, Cabo de São Vicente.
From the fresh seafood caught daily by local fishermen, world renowned beaches, coastal activities, access to nature preserves and a fantastic and dynamic mountain bike scene...

SÃO BRÁS de ALPORTEL is a city in the heart of Algarve - 30 minutes driving inland from Faro, where Serra do Caldeirão begins.
A chain mountain with several peaks with about 500 meters altitude. The soil is composed of shale and yellow dirt. This type of terrain gets grippy during the winter/mid season and very loose in the summer and that's why the best season for riding it is from October to June! You'll ride around cork trees, eucalyptus and low vegetation giving the feeling of riding at wide open trails!
Close to São Brás, you will find FONTE FÉRREA, a Natural Park in Serra do Caldeirão, where National MTB Enduro Cup takes place. There are more than a dozen of proper enduro trails: fast, flowy and loose, suitable to every kind of riding level.
After an intense riding day with about 1000 meters downhill, you can relax and swim in some of the most beautiful beaches or simply enjoy local food and regional products.
FARO is the capital of Algarve and where the airport is located. There you'll find RIA FORMOSA Natural Park, one of the most amazing places of the Algarve, not only for its variety of landscapes but also because of its unique location. Recently elected as one of the 7 Natural Wonders of Portugal, this cannot to be missed during your holidays in Algarve. An unique costal lagoon, constantly changing due to the continuous movement of winds, currents and tides.
The riding around the Natural Park is very mellow and smooth, with sandy terrain and amazing landscapes!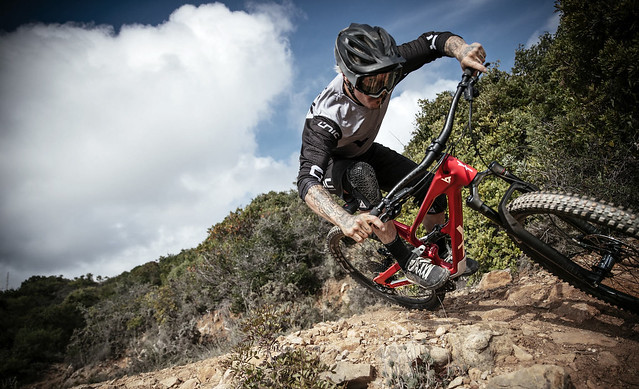 At FALÉSIA, the Orange Cliffs, you can just trail ride along the coastline with a mix of easy and technical red dirt single tracks, winding turns, all framed by breathtaking views.
Either enjoy a super fun ride by the coastline with flowy red dirt trails overlooking breathtaking ocean views, or ride along the river and wonderful almond trees that crosses through Algarve's most typical villages, important monuments that are part of our history.
To sum it up, it's a true All Mountain bike experience.
CARVOEIRO/ SRA da ROCHA is the postal-card from Algarve for its secret and non-crowded unique spots. There is a mix of easy and technical single tracks, some of them a bit rocky that go up-and-down all the time. In the end your ride, it will feel like a true All-Mountain bike experience!
MONCHIQUE, with an incredible scenery at the Atlantic Ocean, has Serra de Monchique, the highest hill in the Algarve, with over 900 meters of altitude. At the peak, WE are overwhelmed by the incredible views from south and west coast, divided by the south-western point of Portugal – Sagres, also known by the nick-name "End of the World"!
Monchique presents us with different trails and riding levels, from fast rolling and flowing single tracks to challenging technical trails, with loads of rock gardens, roots, switchbacks and natural drops. There are two types of forest in Monchique: eucaliptus forest where the trails are narrow and technical, and cork trees with wide-open and fast tracks.
The terrain can change along the longest trails in Algarve from black dirt and granite (grippy) rocks to shale (loose) rocks and yellow dirt!
Algarve's spots, live weather forecast here
complete gallery here